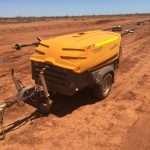 185cfm Trailer Mounted Compressor
Reliable, efficient and durable air compressors
When you need to hire a heavy duty compressor that will deliver guaranteed performance, you can't go past the award winning XAS 185 Atlas Copco Compressor. The popular trailer mounted units are already out there working on sites across Australia, and coping with the demanding challenges set by harsh conditions in the construction, mining and industrial sectors.
Why we choose Atlas Copco Compressors?
These compressors feature a revolutionary Hard Hat, polyethene canopy design. It makes them the toughest in the industry. The canopy is designed to resist extreme temperatures and protect the unit from dusty conditions so often found on Australian worksites. Best of all, the canopy won't rust, dent, corrode or fade which makes it ideal for the Compressed Air Hire business.
Technical spec's
The XAS 185 Atlas Copco Compressor has been designed with reliability and practicality in mind, and we believe it to be the most efficient air end unit in the compressor industry. With guaranteed 185 CFM output, a trailer mounted durable body and road lights as standard, you're off to a good start. The compressor is powered by the extremely reliable 4 cylinders, water cooled 49 HP John Deere engine which is EPA CARB-compliant. Ergonomically designed for efficiency and comfort in the working environment, the control panel is conveniently located at waist level, with discharge valves situated on the same end as the control panel. The unit has multiple 1" outlets available. This provides the option for several tasks to be completed concurrently, improving job efficiency and lowering operating costs. Onsite maintenance is catered for with easy access to filters and the oil separator tank and the unit have removable baffles for easy cleaning. Click for full specifications here.
Practical solution across a range of industries
Our range of Atlas Copco Compressors offers our customers an affordable and efficient compressed air hire solution for the construction, mining and industrial sectors. Our compressors are EPA CARB-compliant. Construction Industry – Overall the XAS 185 unit is approximately 3.2 meters long, 1.6 meters wide and 1.5 meters high. The size and single axel trailer mounting makes the unit highly manoeuvrable and accessible even for tight inner-city sites. Plus, the trailer mounted configuration of this unit makes it easy to transport between sites ensuring you never run out of air. Mining Industry – We understand that conditions on remote mine sites can be harsh and demanding for people and equipment. This is when a durable air compressor which is built tough for Australian conditions is worth its weight in gold. When you're working in remote areas, durability, reliability and performance are essential to get the job done.
Get in touch
We are a proudly Australian owned and operated company, based in the heart of the Australian Marine Complex in Henderson, Western Australia. Talk to one of our experienced Compressed Air Hire team about the benefits of Atlas Copco Compressors and discuss our short, medium or long-term hire options for your project.